Our Staff
Christina (Clinic Manager)
Christina graduated from James Logan High, attended Ohlone College, and has worked at the front desk for eleven years, and has been with ChiroSportsUSA for the past three. She works at the Union City location as the Clinic Manager. She assists with human resources, payroll, scheduling clients, and managing the staff. In her spare time, Christina enjoys spending time with her three kids, one grandchild, and another grandchild on the way. Around the office, she's lovingly known as "mamabear".
---
Mike (Massage Therapist)
Mike has been a massage therapist since 2004 and is a graduate of Ashmead College School of Massage in Portland, Oregon. The intensive program from this accredited school demands over 800 hours of professional licensing training before a license is granted and he has maintained that license by participating in yearly continuing education seminars. Mike is also a member of the National Association of Massage Therapists and is certified by the California Massage Therapy Council.
He loves his profession, as his intention is that the client leave his care, feeling better with each session, while promoting long-lasting relief from tension and pain with self-care. Mike enjoys doing chair massages at businesses and functions such as with Chirosports USA, and also, past ones such as Oregon Department of Human Services, Qualcomm, Teacher Appreciation Day, Nurses Day, and the Hood River Lavender DAZE Festival.
In his spare time, Mike enjoys cooking, hiking, and spending time with family- especially his son.
---
Miranda (Chiropractic Assistant)
Miranda attends Cal State East Bay and studied Kineisology. At ChiroSportsUSA, she is a chiropractic assistant and assists with modalities including the electrical stimulation machine, ultrasound, stretches, and exercises. She makes sure every patient is comfortable and at ease and listens to any concerns they may have. In her spare time, Miranda loves spending time outdoors, bowling, reading, and spend time with friends.
---
Tiffany (Wellness & Marketing Coordinator)
Tiffany is currently in school studying Communications and works at ChiroSportsUSA as the Wellness & Marketing Coordinator. She assists with public relations, coordinating events in the clinics and with affiliated business, runs the social media platforms, and does promotions for ChiroSportsUSA. In her spare time, Tiffany enjoys to read and write as well as spend time with her daughter.
---
MeMe (Front Desk Receptionist)
MeMe earned her certificate in medical assisting and has an AA in Business Management. At ChiroSportsUSA, she works as the receptionist at our Union City location. She checks patients in, schedules appointments, locates insurance information and assists with the office duties. In her spare time, MeMe loves to spend time with her daughter and work out at the gym.
---

Steph (Massage Therapist)
Steph Naca is a certified massage therapist specializing in deep tissue and sports massage. He has had numerous jobs in medical environments including a rehabilitation clinic, hospital lab, and pre-hospital care. Each patient he has seen in these settings allows him to understand each person individually and try to provide them with the best care he can offer. His massage training was completed at Mckinnon Body Therapy Center in Oakland and he continues to learn from respected instructors. He also has a bachelor's degree in kinesiology from the University of San Francisco. In his spare time, Steph likes to travel, try new foods, and train jiu-jitsu.
---

Gaby (Chiropractic Assistant)
Gaby is currently a student at California State University East Bay studying Psychology. When she's not at work as a chiropractic assistant or studying, she spends her days at the gym- otherwise known as her happy place. Her favorite pastimes include working out, reading, and binge watching shows on Netflix.
---

Kaeli (Front Desk Receptionist)
Kaeli attends California State University, East Bay and is studying to be a Certified Recreation Therapist. At ChiroSports USA, she works as a receptionist at our Pleasanton location. She checks patients in and out, schedules appointments, locates insurance information, and assists with office duties.
In her spare time, Kaeli enjoys going to Target, eating and trying new foods, and spending time exploring the Bay Area with her boyfriend.
---

Raqui (Chiropractic Assistant)
Raqui attends California State East Bay and is studying kinesiology. She's a chiropractic assistant at ChiroSports USA at the Union City location. In her spare time, she enjoys to cook, sing, hike, and spend time with her friends and family.
---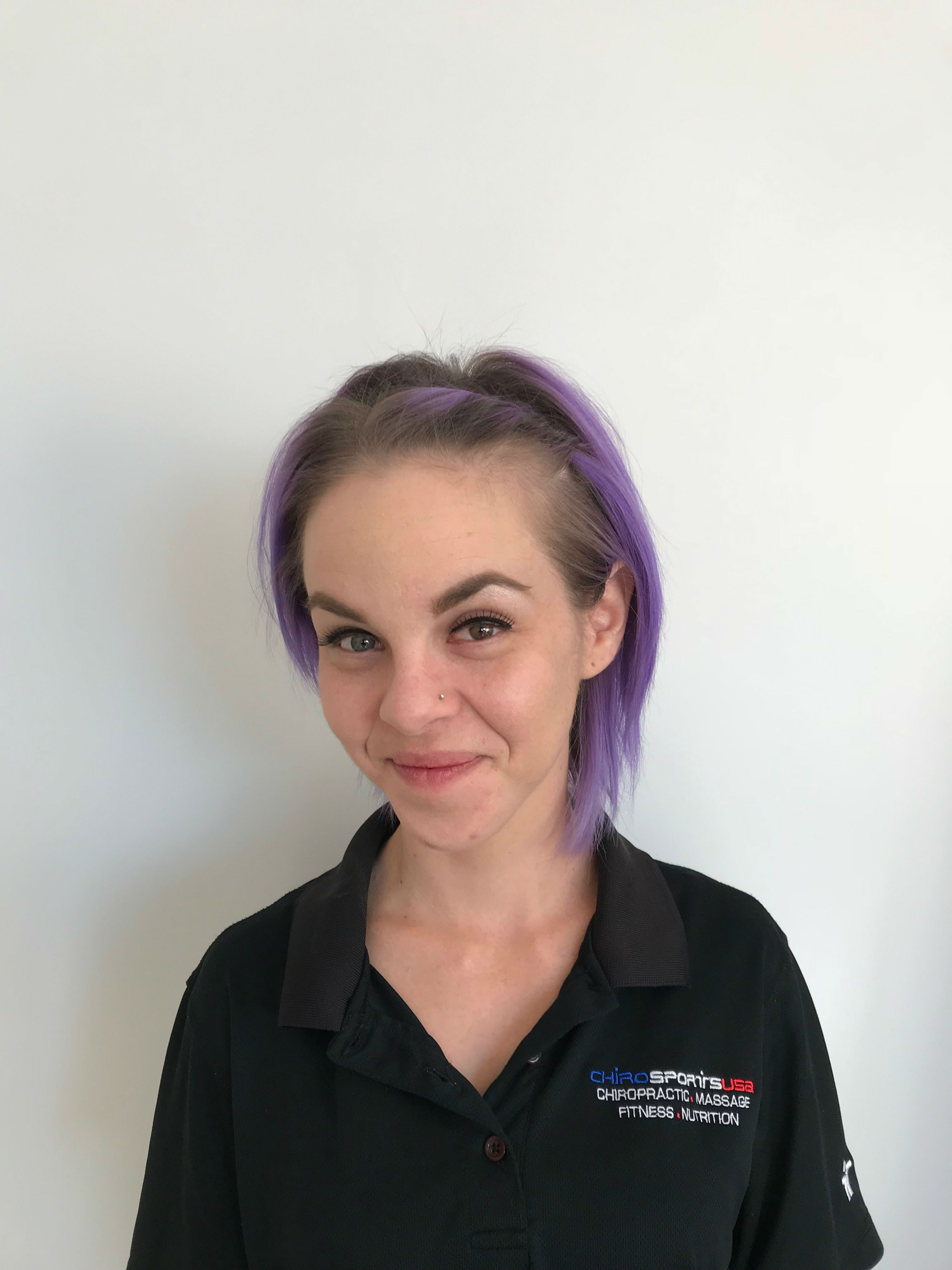 Jessica (Massage Therapist)
Jessica Sanderson-Ward is our massage therapist at ChiroSportsUSA. She has a A.S. Degree in Massage Therapy with 1110 hours of training. Jessica attended San Joaquin Valley College in Modesto, CA and graduated with a 3.96 GPA with Dean's List Honors and was ranked number 3 of the graduating class. She truly believes a holistic approach is the true path to healing physically, mentally, and emotionally. My favorite techniques are sports and ortho. The reason she became a CMT was her husband and daughter. Jessica wanted a job that fulfilled her desire to work in the medical field and also be a good role model for her daughter. Becoming a CMT has turned her life around and has made her a better mother, wife, and all around, a more humble woman. She recently got married in April 2017 and has a 9 year old daughter. Jessica and her daughter anticipate the arrival of shark week every year. She enjoys quiet time in her spare time to be able to relax and unwind. She also has fun with her family by playing board games and cheering for the SF Giants and Dallas Cowboys.